EuroSafe Imaging Stars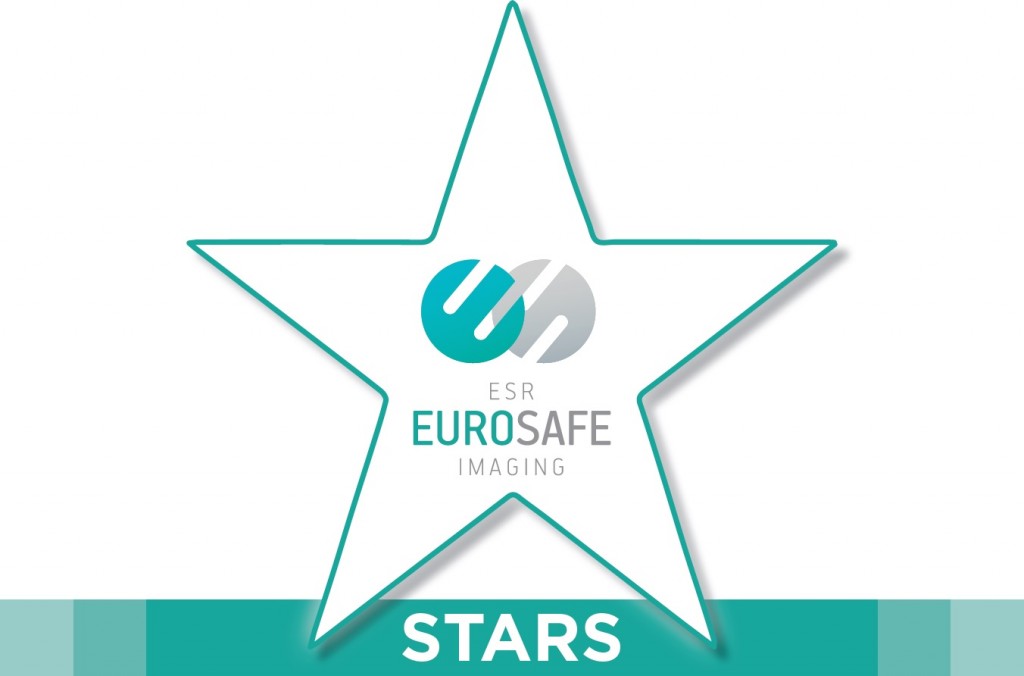 EuroSafe Imaging Stars is an initiative designed to identify and recognise imaging facilities across Europe that embody best practice in radiation protection. By partnering with institutions that are committed to putting the principles advocated and concepts developed by the European Society of Radiology into practice, EuroSafe Imaging aims to bridge the gap from raising awareness and advocacy to impacting the reality of clinical practice.
In this way, the initiative marks an important step forward in implementing the EuroSafe Imaging Call for Action. More than that, these partnerships will allow the ESR to learn and benefit from the experience of participating institutions to make its services and tools even more effective and useful in future.
One important contribution EuroSafe Imaging Stars will be expected to make in this regard is to participate in the data collection efforts through the 'Is Your Imaging EuroSafe?' surveys on CT doses, making the resulting benchmarks more reliable.
If you would like your imaging department to become a EuroSafe Imaging Star, apply online and show patients that you put their safety and quality of service first!

Click here to download the self-evaluation criteria (PDF).
EuroSafe Imaging Stars Self-Evaluation Criteria

The initial self-evaluation is part of the application for becoming a EuroSafe Imaging Star. EuroSafe Imaging Star institutions repeat the self-assessment electronically every two years.

✶

(all required)

1

Participation in 'Is your Imaging EuroSafe?' surveys (prerequisite for becoming EuroSafe Imaging Star)

EuroSafe Imaging Stars are required to complete all existing questionnaires and commit to participate in future surveys published periodically

2

Participation in bi-annual self-assessment (prerequisite for becoming EuroSafe Imaging Star)

EuroSafe Imaging Stars must submit a self-evaluation form to the ESR Radiation Protection Subcommittee every two years

✶✶

(all required except criterion 12)

3

CT protocols

EuroSafe Imaging Stars must ensure that CT protocols are in place in their imaging department

4

Automatic CT dose recording

An obligatory system for automatic recording of CT doses administered to patients must be in place

5

Use of local diagnostic reference levels (DRLs) for CT

DRLs must be available and adhered to for the most common clinical indications

6

Specific paediatric CT protocols

Protocols for paediatric CT must be in place; protocols developed for adult patients must not be used for children undergoing a CT

7

Specific interventional radiology protocols for dose reduction

Protocols for interventional radiology aimed at reducing doses must be in place

8

Clear RP tasks for radiographers

Imaging departments must define radiation protection tasks for radiographers

9

Patient information on radiation issues

Easily accessible information materials on radiation protection principles and practices must be available to patients and carers

10

Local justification policy for women of child-bearing age

A justification policy taking into account local circumstances must be in place for women of child-bearing age

11

Regular equipment quality control

Periodic quality controls for all imaging equipment

12

Local policy for identification of referrer (optional)

A policy to identify the referring physician, taking into account local circumstances, must be in place

✶✶✶

(4 out of 8 criteria required)

13

Educational programme in radiation protection

Imaging departments must take measures to educate their staff about best practice in radiation protection

14

Process for evaluating cross-sectional imaging requests

All cross-sectional imaging referrals are to be reviewed and assessed

15

Clinical Decision Support (CDS) implementation project

Development of an actionable plan to introduce clinical decision support for electronic referrals to improve compliance with evidence-based guidelines

16

Access to medical physicist's advice

A medical physicist must be available to provide advice on doses

17

Operational clinical audit system informing department of current compliance with ESR Patient Safety Standards

A clinical audit policy must be in place to ensure compliance with the ESR's Patient Safety Standards

18

Concept to introduce benchmarking

EuroSafe Imaging Stars must develop an actionable plan to introduce benchmarking

19

Dose optimisation in CT policy

EuroSafe Imaging Stars must develop a policy for dose optimisation in CT

20

Max. 25% variation in radiation dose in head CT in children within one age category (between operators using same scanner)

EuroSafe Imaging stars must take measures to ensure that dose variation for head CT in children does not exceed 25%

✶✶✶✶

(2 out of 4 criteria required)

21

Operational clinical audit programme on radiation protection

Imaging departments must carry out periodic clinical audits

22

Operational benchmarking programme

Benchmarking must be part of clinical practice in the imaging department

23

Image quality assessment programme in place

A project to assess image quality must be implemented

24

BSS local implementation programme in place

A project to ensure the imaging department complies with the requirements in the Euratom BSS directive and national legislation must be implemented

✶✶✶✶✶

(1 out of 2 criteria required)

25

Radiation protection research activities

Imaging departments must engage in radiation protection research

26

Operational CDS in clinical practice

Clinical decision support must be in use for electronic referrals