EuroSafe Imaging at World Health Assembly 2015
Posted May 27, 2015
The ESR was represented on the panel of a side-event entitled 'Imaging for Saving Kids – the Inside Story about Patient Safety in Paediatric Radiology' initiated and co-organised by the International Society of Radiology (ISR) at the WHO World Health Assembly in Geneva on May 26.
Around 60 policymakers, healthcare providers, equipment manufacturers, and patients from across the globe gathered at the event to jointly discuss what could be done to improve health and service delivery by maximising the benefits and minimising the risks when using medical imaging in children and how this could be achieved.
As a speaker representing the ISR and the ESR, Prof. Guy Frija, EuroSafe Imaging Chair, outlined the importance for member states to pursue a multi-stakeholder approach, to adopt tools to improve appropriateness and optimisation, as well as to develop a policy on medical imaging equipment upgrade. He underscored the urgent need to increase awareness among patients, carers and healthcare professionals and encouraged the launch of regional campaigns, following successful models such as EuroSafe Imaging or Image Gently.
Click here for the ISR press release on the event, the coverage in the WHO's PHE e-news is available here.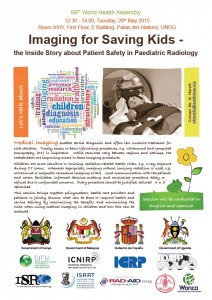 ---